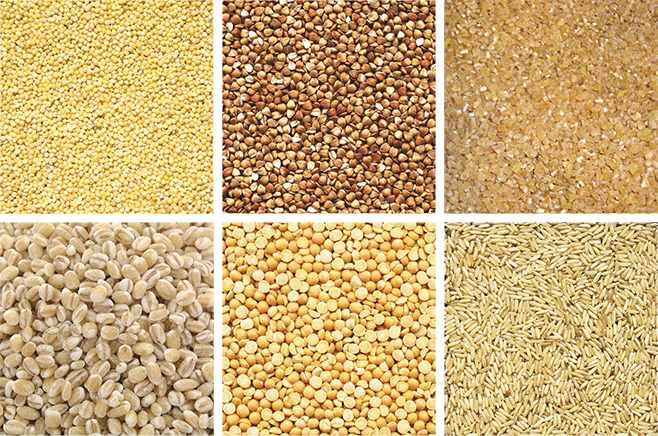 In the milling industry for production of cereals are mainly used millet, buckwheat, rice, barley, pea, wheat, oats and maize.
Today, despite the superficial simplicity of the technological scheme of cereal production, products of different producers differ in quality and in appearance.
The standards provide raised requirements to the grain quality of cereal crops as to raw material for processing.
A very negative impact on quality of all cereals makes content of spoiled grain, content of seeds of weeds and quarantine plants, mineral impurities (sand, pebble), hardly removable impurities can also be the cause of non-standard cereal.
Fresh, similar in size and density, homogeneous grain has the best technological qualities. Each cereal crop also has its own differences related with peculiarities of crop.
It is not a secret that the consumer through the transparent packaging can visually detect, for example, admixture of Setaria seeds in millet, barnyard grass, unhulled grain, unhulled grain in buckwheat, and mineral impurities and crushed grain in rise.
Therefore only producers who put in first place the product quality achieve high results.
Separator CAD is expedient to operate together with existing mechanisms in the process line for cleaning of the incoming material and for qualitative separation of the finished cereal into fractions. In addition separator CAD with high accuracy removes impurities, different from the main cereal, removes shorts and products of processing, husk, nonstandard crushed grain. Another advantage of the separator is its ability to work perfectly with all types of agricultural crops and cereals, while the time needed to reconfigure the separator for another culture is up to 15 minutes.
Producers of cereals, who had already installed CAD in their technological line, have made considerable progress in quality improvement.
For example, preliminary calibration of millet feedstock, before peeling, buckwheat or rice, increased output of finished products of high quality.
Calibration of maize cereal, calibration of cornmeal