| | | |
| --- | --- | --- |
| | We invite to "Golden Niva"! | |

From 28 till 31 of May 2013 in Ust-Labinsk, Krasnodar Krai, Russia will take place International agro-industrial exhibition with field demonstration of technics and technologies "Zolotaya Niva".
In "Zolotaya Niva" will take part more than 400 companies, representing a wide range of technologies, machinery and equipment for agro-industrial complex. The exhibition is a kind of engine in development of agrarian sector of Krasnodar Krai of Russia.
SPC "Aeromeh" Ltd. together with LLC "Altair" will take part in exhibition "Zolotaya Niva" and will present separators CAD.
We invite everybody to visit our booth!
News
We at AGRO-2018 in Kiev
28 May 2018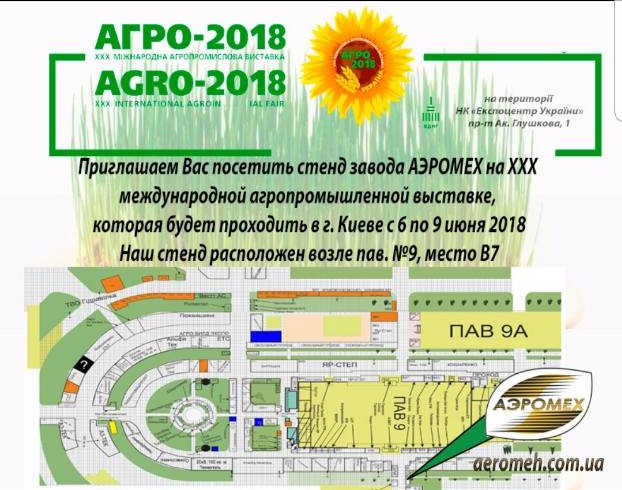 The XXX International Agroindustrial exhibition «AGRO-2018» will be held on June 6-9, 2018 in Kyiv. Our stand is located near the pavilion №9 place В7. Read more about our location at the exhibition on our phones.

Administrator www.aeromeh.com
See all news

SEPARATORS CAD REVIEWS OF FARMERS AND LANDOWNERS FROM POLTAVA REGION, UKRAINE
03 May 2018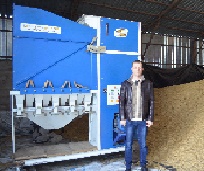 No matter the spring was late, every farm producer will have to go to the field. True farmers always prepare themselves for sowing campaign well in advance, this relates not only to land and machinery, but also to seeds. It is known that what you sow - same you will reap. If the farmer puts poor quality seeds in the soil, all the achievements of agricultural science and technology are losing their effectiveness. At "AEROMEH" plant, located in Kreminna, Luhansk region, Ukraine they produce equipment for cleaning and grading of grain. Aerodynamic separators CAD give the farmer an opportunity to use the unique technology of grain cleaning. These separators are especially popular in Ukraine as well as abroad. Private Farm "Druzhba", which is located in Semenivskyi district, Poltava region, Ukraine is one of the largest agricultural enterprises. There are up to eight thousand hectares of land being cultivated here. Head of the Supervisory Board of the holding, Mr. Sergiy Semigrienko takes care of six directions of development. One of the priorities is growing of agricultural products. - What is the crop rotation in the PF "Druzhba"? - I asked the agronomist, Mr. Anatoliy Shevchenko. - We grow beetroot, which occupies from 600 to 1000 hectares; corn - 3000 hectares, soya - 1200 hectares, winter barley and wheat - 1700 hectares, as well as sunflower - 1000 hectares. – says Mr. Shevchenko. - A significant place in the structure of our enterprise belongs to beekeeping, - continues the specialist, - today we have 4000 beehives, and our task for the next year is to bring this number up to 8000. In future here we will have the largest apiary in Europe. - Do you have a special crop for honey production? – I continue conversation with the agronomist. - Yes. the honey plants in the land structure of the PF "Druzhba" occupy an area of 2000 hectares. Among the common plants, we grow phacelia, coriander, buckwheat, sunflower and white mustard white. We are also exploring twenty new honey plants, their progress on our lands and in this climatic zone. We have seeds of such crops, we have grown ourselves three kilograms of cucumber grass, gradually we apply into practice the use of various kinds of trees, bushes, such as linden, Ivan-tea and others as honey plants. - What else is the enterprise doing? - Another direction is called PEREGRIN. This is hunting, fish breeding, as well as green tourism. By the way, green tourism is especially popular nowadays. On the shore of the lake with the total area of 280 hectares we have built comfortable houses, which we lease to those who are interested. For recreation we offer fishing, the territory is equipped with everything necessary for the barbeque, etc. Among the new products - API houses. They are made in the form of pyramids, so that the person is able to enjoy the best of the benefits of bee therapy. - A kind of a sanatorium with bees? - I am joking with the interlocutor. - Yes, but much better and more effective. Trade is developing especially efficiently, - Mr. Shevchenko continues the story. - We sell our own products. - What kind of products? - All kinds of vegetables, I emphasize – literally all; honey, beekeeping products - in particular, three types of mead and much more. - Probably, you have a significant number of employees? - Judge for yourself, for example, the New Year's corporative party was attended by 600 people. In our own restaurant, designed for 90 people, we have organized the celebration several times in a row. - Tell us about the use of aerodynamic separators CAD. - We already have three such units. At first, we have bought a separator for ten tons of grain, later, after a certain period of time, we have purchased two units, each for twenty tons. I would like to note that they working continually. We have slightly improved them by putting them on wooden pedestal, and now we move to the place where they are required. We have even created a whole line consisting of them, where we carry out drying and initial cleaning of seeds. SAD is good both for initial processing and for selection of elite seeds. I want to mention that we are very happy with these separators. Separator CAD is very simple and understandable for farmers, and because of that it is easy in operating and works efficiently. Machines for grain cleaning are based on the interaction of a strong airflow and grain that flows into this air. CAD increases the yield by 4-6 centners per hectare. We are processing all elite seeds through these separators. – The agronomist continues the story. - Look, specific weight of grain is different. Science has discovered, and we confirm it by our experience, that heavier grain is much more viable, gives better germinating capacity. We have tested it on a German variety of soybean seeds. We have bought the elite breed. The grain, which was processed through the aerodynamic separator, gave yield which was 4 centners per hectare higher. Although we don't refuse from the first reproduction of foreign seeds. - The enterprise is large, active, and therefore, probably, it is so-called city-forming for the region? - Yes indeed. Of great importance is that the fact that the owner is local. The result is good, and what is most importantly is that the children are not looking for a better luck, but stay at the enterprise. One son is managing trading, the other one maintains a garden, land. It is a good model. People are not going to go anywhere, and so there is stability and development. Among the active operators of CAD are Mr. Maksim Dyachenko (Private Entrepreneur Mr. Dyachenko M.M., Poltava region, Grebinkivsky district, Kulazhentsi village). Former teacher leased 200 hectares of land in 2006 and started sowing wheat, barley, soya, corn and sunflower there. Today he is a successful farmer who not only created jobs, by providing people with employment and income, but also he actively helps the school, kindergarten, village council to clean the snow away, provides institutions with firewood, removes garbage, etc. In addition to growing grain crops and industrial crops, the entrepreneur is engaged in auxiliary activities in crop production – he does ploughing, harvesting, cleaning, grading of grain, in other words he is preparing sowing material. - It is for this purpose that I bought aerodynamic separator (CAD-5), - Mr. Dyachenko tells. - I was convinced that it was qualitative. But it had a very little capacity for me. Therefore, I decided to buy a more productive separator. I have made a clear condition, to maintain quality and increase capacity. Partners have recommended me the CAD-10. I am very happy with it, and I advise it to all friends. - Why did you choose the products of AEROMEH factory? - The same products are produced in Kharkiv, - says the farmer, - indeed, there is an analogue, there is competition. But when I originally planned to buy a separator, I asked people who have already used this machine. It turned out that in Kharkiv separators there are no vibrating tray. Because of this, they often have the grain passage clogged, or the seeds are being unevenly transported for grading; but in CAD, because of the installed vibrating tray, the grain passage is not clogged, and each seed is being evenly spread along the entire width. It results in a better blowdown, and the final result is better. - What crops do you pass through the separator? - Wheat, barley, soya are being effectively processed. We have also tried lentils, which was recently brought by our colleagues. They were very satisfied with the result. We obtained a good result on buckwheat, which we began to clean this year. It all depends on volumes. - So, have your volumes increased? - Of course. Because of this, I had to return the CAD-5 to the manufacturers who successfully sold the unit, and they brought me the CAD-10 instead. I am very grateful to them for such understanding and help. I have normal partnership relations with them, and now I consult people of my region on this subject. – Kind of sales assistant and consultant? - That's right, - said Mr. Dyachenko. Mr. Oleksandr Yaroshenko, head of LLC "Zalissya 2007", located in Poplivka village of Mirgorod district in Poltava region, met with representatives of the AEROMEH factory at an exhibition in Kyiv. Before the war I visited Luhansk, where the plant was previously located, and there I have bought an aerodynamic separator CAD, at my request it was little improved, - says the entrepreneur, - it was equipped with a cyclone, loading and unloading screw-loaders, and also it was out wheels. It is self-propelled. In addition, it has an electric motor that uses up to 15 kW energy - What seed do you process in the separator? – Grain is loaded right from the field. It is very user-friendly and requires minimum expenses in terms of labor. If the grain is dry, the unit is serviced by one person. When the soya is moist, we put a screen. Results on soya are always perfect. - And why soy beans? – I continue the conversation with the farmer. - The fact is that it is the main culture that we grow on 320 hectares. This year, for the first time we sowed corn. With soybeans, we already have some experience, therefore, the culture is of good quality. Traders have sold soya from my field to Germany. Zaporizhzhya company "Sirena" also buys the soya. The fact is, the plant is well cleaned and graded. It is because CAD both cleans and grades, and the seed remains not damaged. Another factor that influenced the priority of soybean in my farm is the analysis of the land. According to the expertise data, we began to sow the most profitable culture here. Although it should be noted that there are areas that give very poor crop. In general, the principle is common: if to treat soil with intelligence, then there is a return. (It is just that the management shouldn't do any obstacles). - Tell about the economy. - Our enterprise occupies about 8% of the area among the total amount of land of the village council. This is a combination of the shares owned by people. In return, people get 10% of the cost. The share itself is about 3 hectares. In 2017, we have bought a new combine harvester "New Holland (CR790)", which was bought in a leasing loan. I live in Zaporizhzhya, here I have ten official employees. I am a member of the village council. Together with the village council, we have illuminated Dolyna street, - shares the farmer. We go to the production place. Separator is in working condition, ready to take seeds for cleaning. The owner shows photos when the unit was in operation. It is clear that the machine is useful and necessary. Private Company "Zhytnytsya 2010", located in the village of Rozsoshyntsi, Poltava district also confirms the fact that CAD is an important component in agribusiness. The head is Mr. Volodymyr Vakaryuk. Employees gladly show the separator and say that it cleans wheat, soybeans, corn, sunflower seeds very well. We purchased it is summer 2017. It has been working at the enterprise for six months already. During this time, it became clear that the CAD is successfully cleaning grain from the field. Only the best seed is picked up for sowing, because the halves and beaten seeds are immediately removed. Cleaning is precise, and is done when necessary. And in general, the machine is of very high quality and gives a good result. Thus, one can be sure that economizing on a good harvest is not worth it. Food producers, taking care of the excellent result, should listen to science, implement new and up-to-date technologies - and therefore actively use separators CAD produced by "AEROMEH" plant. These machines have changed from being bright new products to the category of mandatory conditions of the present day." More about us phones.

Administrator www.aeromeh.com
See all news

We at AGRO-2015 in Kiev
03 June 2015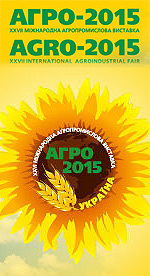 The XXVII International Agroindustrial exhibition «AGRO-2015» will be held on June 3-6, 2015 in Kyiv. Read more about our location at the exhibition on our phones.

Administrator www.aeromeh.com
See all news